Possessed by a Lying Demon.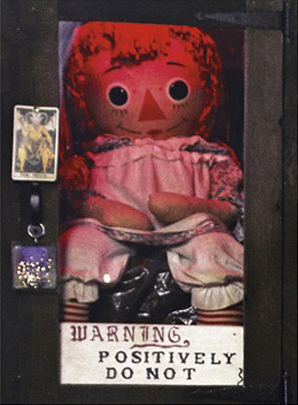 In 1970, a woman shopping in a thrift store bought a Raggedy-Ann style doll for her daughter, who was in college. Her daughter liked it and put it in her apartment, but soon she and her roommate both noticed odd things happening involving the doll. It would move by itself, often being found in another room even though no one had touched it. They found small scraps of parchment paper, which they didn't even own, with childish handwriting scrawled on them. They even found the doll standing impossibly on its rag doll legs one day.
The frightened girls contacted a psychic medium, who told them that the doll was possessed by the spirit of a young girl who had died in the apartment building. "Annabelle" said that she liked the college girls, and wanted to stay with them, so they told her that she could. Unfortunately, granting the spirit this permission lead to increased paranormal activity in their apartment, including having a male friend get attacked by the doll one night, leaving vicious scratch marks all over his chest and torso.
At their wit's end, the girls contacted renowned psychic investigators Ed and Lorraine Warren. The married duo soon found that the doll is not possessed by the spirit of a child at all; rather, it is possessed by a demon who had lied about its identity in order to get close to the girls, perhaps intending to possess one or both of them. The girls gave "Annabelle" to the Warrens, who encased it in a glass display cabinet in their Occult Museum in Connecticut. The sign on the glass reads, "Warning: Positively Do Not Open."