Our Words are just that, words, here's what some of our friends are saying for us.
Coolest shop in hamilton absolutly love it lots of rare specimens also extremely knowledgeable staff.
A great place wether you're a seasoned collector looking to add a show piece, or just getting started on a collection, every object comes with a story and is happy to make its way to you. Truly a place where the proprietors are just as eclectic as thier wears.
We rented… mostly from Cabinet of Curiosities. Cabinet of Curiosities had a lot of the tribal items, lemurs, warthogs, all the repitles and the giant alligator skin that was a niche upstairs and of course the emu and giant anteater. There was actually much more that. Their stock helped breathe life into Hargreeves' world.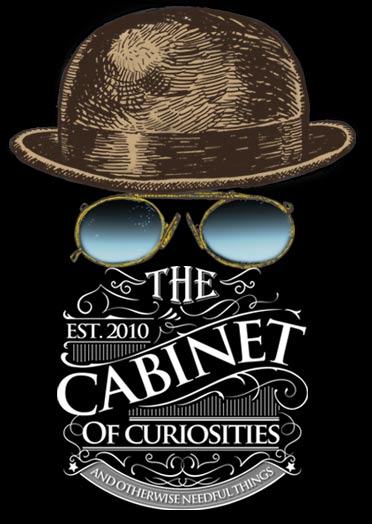 This place is fucking awesome!
The Cabinet of Curiosities is like the inside of  some mad Victorian scientist's head. Filled with medical oddities, strand and eerie items, and things that are surely cursed (in the best possible way). We spent an afternoon creating an incredible photoshoot in the space, and it was  a wonderful experience.
I am an avid collector of antiques and unusual items, and have been dealing very happily with Cabinet of Curiosities for many years. I have to say that the very best of my curios in my collection were purchased from them. Dealing with Mark has been fantastic, especially as he often locates items from near and far that are specifically sourced for me, and always they are one-in-a-kind. If you want a unique gift or treasure for yourself, I highly recommend you deal with Cabinet of Curiosities.
We came as tourists and left as friends. We haven't found another shop like this anywhere else in the World, especially in Europe. Dark Art and Curiosity Shops/Museums are a very rare find here, but the Cabinet in Dundas, Ontario, Canada has it all; from stuffed animals and ancient medical equipment, to torture devices. Actually, we thought it was a Museum, but it's not, it's far beyond that. Now, every time we are in the Hamilton Area, Mark and his Cabinet of Curiosities is a MUST; always new, exciting one-of-a-kind items handpicked from arround the world await us. It's the perfect shop if you're a serious or novice collector, if you want some killer interior design, or if you work in film and television and need that one-of-kind prop. Thank you Mark for having us, it's always a pleasure to hang out at the Cabinet and travel through history.
Welcome to the Cabinet of Curiosities and Otherwise Needful Things! Trading in Antiques, Curiosities and Oddities – From the Rare to the Absurd! We are Canada's most unique Retail Gallery and Prop Rental service based in Halmilton, Ontario serving the GTA and beyond!
We're a hidden jem located at 341 Ottawa St., N in Hamilton, ON. Our brick and morter location presents a culmination of over 35 years of ongoing efforts in sourcing unique and historically significant material. Our inventory is as diverse as your imagination. We have exceptional museum quality collections in apothecary, funeral memorabilia, the macabre, Victorian taxidermy, medical study, quack medicine, tribal art, world treasures, eclectic Victorian decor and more! We feature signature pieces from the Billy Jamieson collection, star of History Channel's Treasure Trader; historical pieces from the Niagara Falls Museum, the longest operating private museum in North America; FX pieces from the personal collection of Gord Smith, special effects master known for his award winning work including the X-Men franchise!
We're expanding the Cabinet daily, immerse yourself in our imaginarium, challenge your sense of normalcy. We sell, buy, trade and rent! We welcome the curious and intrigued Wednesday through Saturday, 10am to 5pm. "We define ourselves by the things we own, live large!"
As much as we'd like to be able to load the full scope of our incredible inventory to the website, time is demanding and fleeting. The website is merely a taste, a teaser to what lays "in store". While we will continue our efforts in regularlity adding material to the site, the true experience begins the moment you step across our threshold! See for yourself why we've been described as HomeSence through the eyes of Stephen King!
You may have already had a glimpse inside The Cabinet without even knowing it. We supply many film and television projects including Hand Maids Tale, Reign, Orphan Black, Umbrella Academy, Transylvania, Hannibal, Shadow Hunters, Murdock Mysteries, Anne with an E, American Gods and others. In fact many of our regular customers have coined the phrase "spot the prop" while watching some of their favourite shows. Stop by the shop and see if you can "spot the prop'!
BE A PART OF THE CABINET! We're always on the lookout for distinct additions to our inventory. Wanted – Single Items, Collections or Complete Estates – Cash, Consign or Auction! Contact us by text/phone: 905-818-5728 or email mdraak@cabinetofcuriosities.ca for details.