inside the cabinet – Volume 1 / Issue 5
From the rare to the Absurd!
And now for something a little different – enjoy these features and product links! If you have any requests for topics or products, please let us know. The crevices run deep within the Cabinet and there's always more than meets the eye. Don't miss our other blog pages with even more articles and special Flash Sales! If you see a product number beside any item, be the first to hit that link and make it your own! In some cases the items pictured haven't made it on to the website yet, you're encouraged to visit the shop and capture these treasures in person or contact us and we'll track it down for you or suggest something similar.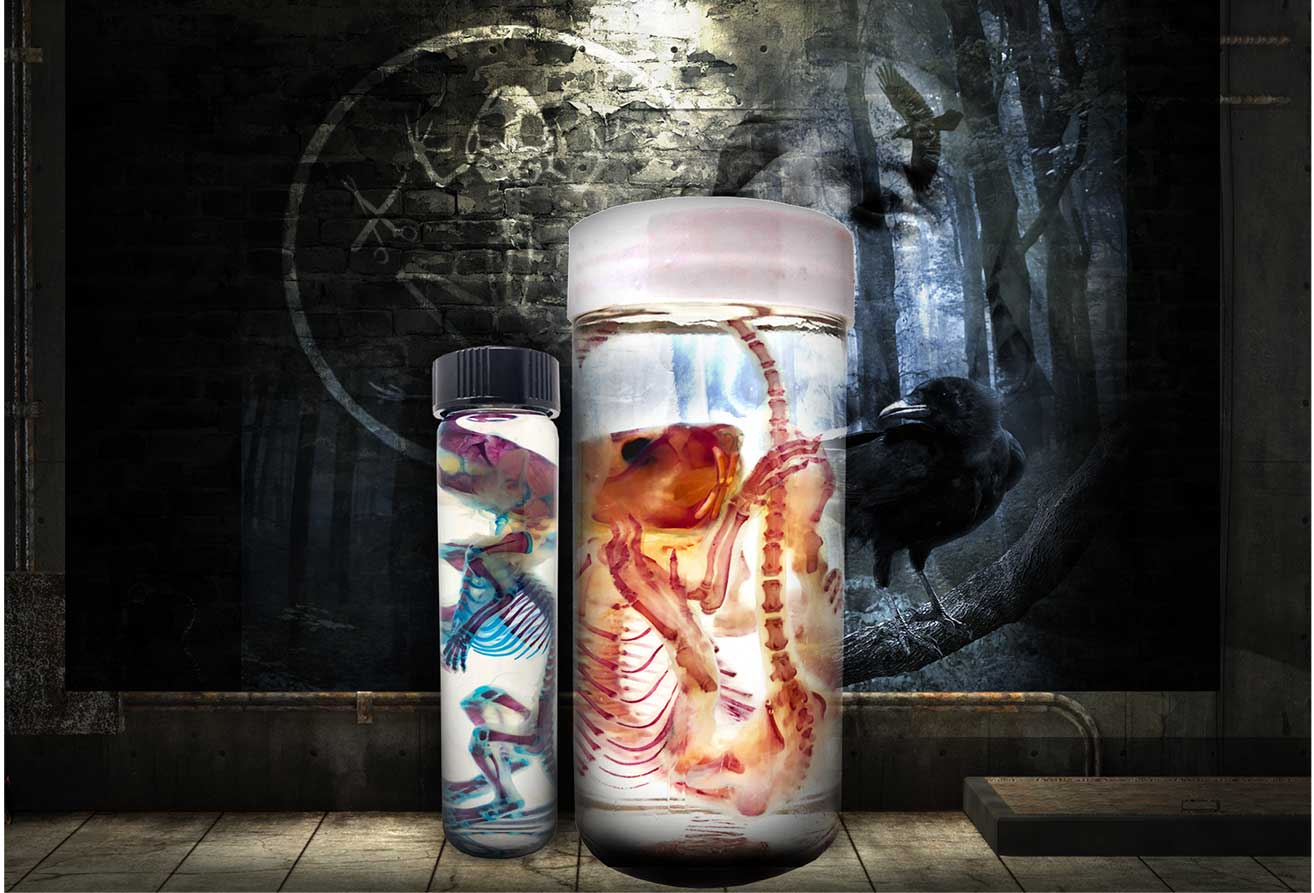 Illuminating a Surreal World of Anatomical Art
Drop by the Cabinet to see our incredible collection of diaphonization – a spectacular blend of science and art. Also known as clearing and staining, diaphonization produces a surreal specimen in a myriad of sensational colours. Unlike wet specimens or traditional taxidermy, this intricate process renders the flesh transparent offering a window into the skeletal structure. The delicate and precise injection of each rich coloured dye penetrates and illuminates a specific component, muscles, cartilage and tendons. These psychedelic specimens often take months to prepare.
PRICE DROP! JUST 2 LEFT – $325
Outstanding! Frog in 200ml vintage flask! Featuring incredible colours that highlight the skeletal structure and illuminate the muscular system. It's unique structure makes it the perfect specimen for diaphonization.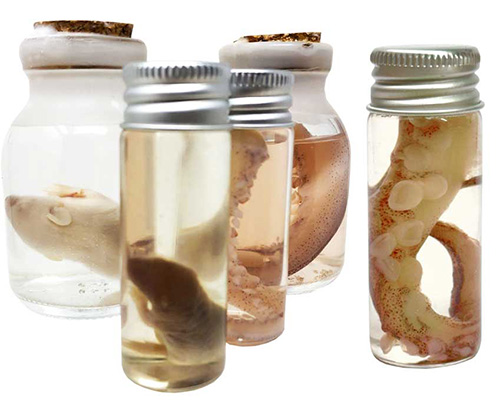 Getting Started
Interested in starting a collection in natural history? We have the perfect budget-friendly specimens to get you motivated! Pinky mice and octopus tentacles starting from just $15. Limited supplies available in-store. Stop by or call to reserve yours today! Shipping is available but it's so much more fun to stop by and catch-up on what's new!
Rare 19th century decorative funeral tack used to decorate coffins and particularily horse bridals during horse-drawn funeral services! These are not on the website, to claim, email or message on social media! curator@cabinetofcuriosities.ca / FB & IG @cabinetcurious

The Crows are Back!
But not for long! Seasonal Sale starting at just $300…
A staple in any collection! Our crows are ethically sourced from the UK. Prices ranging from just $300. We have several in stock but they won't last! Drop by the shop to hand select your favourite mount.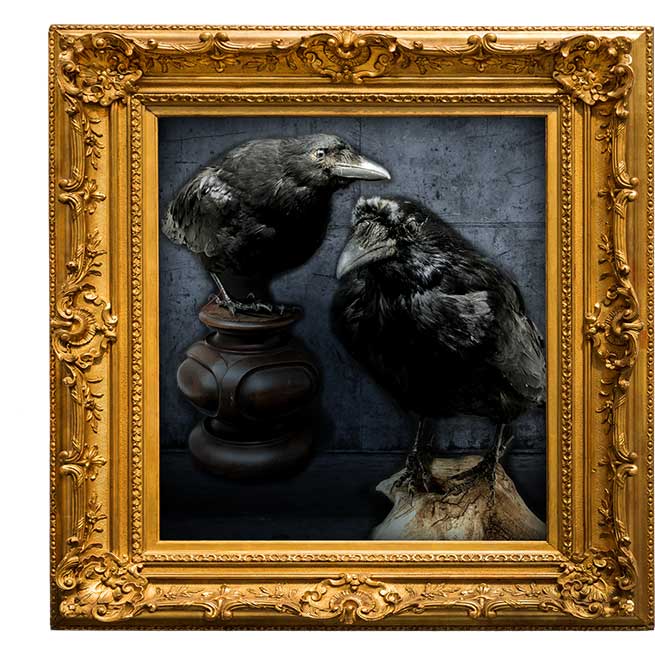 Appalachian Mountain Myths – a low-flying group of crows means that illness is coming—but if a crow flies over a house and calls three times, that means an impending death in the family. If the crows call in the morning before the other birds get a chance to sing, it's going to rain. Despite their role as messengers of doom and gloom, it's bad luck to kill a crow. If you accidentally do so, you're supposed to bury it—and be sure to wear black when you do!
Crows by numbers – seeing just a single crow is considered an omen of bad luck. Finding two crows, however, means good luck. Three crows mean health, and four crows mean wealth. Yet spotting five crows means sickness is coming, and witnessing six crows means death is nearby.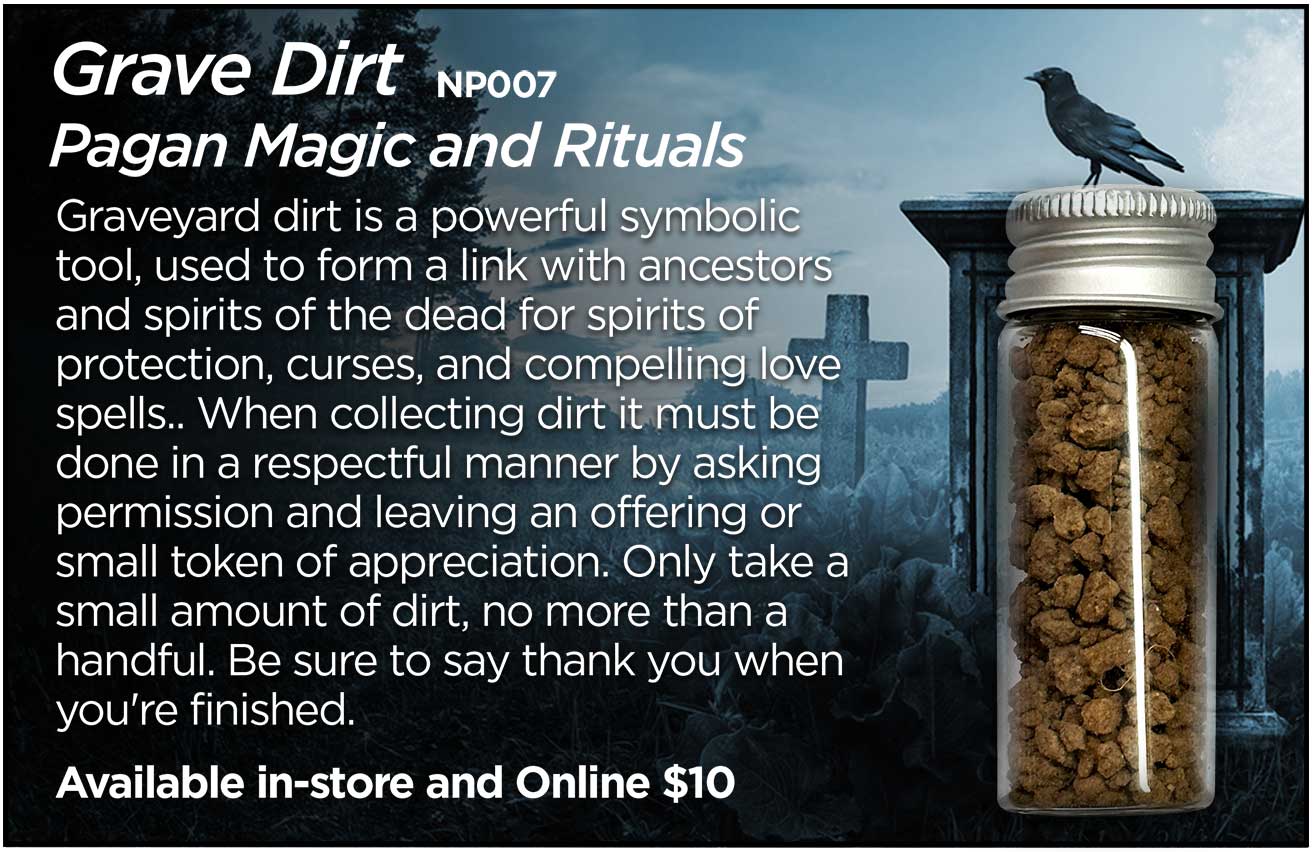 It rubs the lotion on its skin or else it gets the hose again
Greater Death's Head Hawkmoth
Unaware, it hovers free in the air, unaware of the deadly simulacrum finely imprinted on the surface of its hairy back. Such as to recreate in the eyes of the viewer, the horrifying image of a human skull.
The rebel of the moth world, the Death Head Moth rose to infamy in the film The Silence of the Lambs when Buffalo Bill planted the death's-head pupae in his victims throat to represent transformation. Some speculate Buffalo Bill also believed the squeek or squeal of the moth represented the screams of his victims.
Strikingly large, it is easily distinguishable by the human skull-shaped pattern on the thorax. It is traditionally seen as an omen of death. The species name, Acherontia, is derived from Acheron, which is a river in ancient Greece mythology that led to the underworld.
A very limited supply, act today! Presented in a black shadow box frame. Available in-store or online.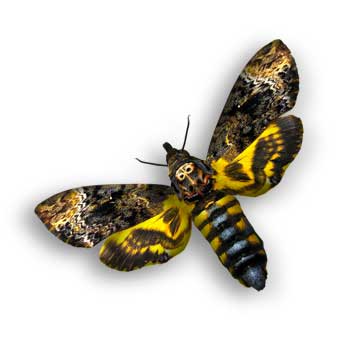 Available in any denomination for for those with obscure and distinct taste.
Available on all items over $100 with a 50% deposit down and the balance paid in full by any number of instalments within 60 days. Some conditions and restrictions apply.
and Otherwise Needful Things
341 Ottawa Street, N., Hamilton, Ontario
(corner of Barton and Ottawa streets)
Wednesdays though Saturdays: 10:30am to 6pm
Sundays: 12noon to 5pm
Mondays & Tuesdays are by chance or appointment
STOP BY THE SHOP TODAY
AND SEE WHAT YOU'VE BEEN MISSING!