The upcoming Hollywood North: FXSMITH Studio Collection Online Auction is in association with our good friends at the Billy Jamieson Collection.
From March 23-26, 2015 you can bid on incredible memorabilia such as Mystique's costume, Wolverine's claws, weapons from Platoon, and much more.
Waddington's presents the artistry of FXSMITH Studio Inc. in an auction of extraordinary examples of special effects from blockbuster movies such as X-Men, Platoon, Nixon, JFK, Jacob's Ladder and Legends of the Fall.
"This auction really takes you behind the scenes – an exploration of the magic and the imagination of some of Hollywood's most popular and provocative movies" says Duncan McLean, the president of the Toronto-based auction company conducting the sale. An unusual auction for Waddington's, McLean explains: "What impressed us was the artistry of the work; FXSMITH's team was comprised of some of Canada's leading artists, including one of Canada's best sculptors, Evan Penny, whose work appears in the Art Gallery of Ontario and has been featured in our contemporary art auctions."
A 30-year veteran of the film industry, Smith and the 13 hand-chosen artists in his company are probably best known for bringing the mutants from X-Men to life. Mystique, Wolverine, Sabretooth, Toad, Nightcrawler, Senator Kelly and Lady Deathstrike all appear in the auction in one shape or form, including the life-size Mystique played by actress Rebecca Romijn; the life-like bust, prosthetic hands and arms, and silicone bullet head wounds of Wolverine played by Hugh Jackman; as well as various prosthetic busts, tails, feet, ears, clawed hands and retracting blades of the other main X-Men characters.
While the special effects for movies like X-Men and Jacob's Ladder are based on sci-fi and fantasy, FXSMITH's work in movies like Oliver Stone's Nixon, and Edward Zwick's Legends of the Fall involved creating life-like effects. Items in the auction from these movies include mixed media, life-size models of eviscerated zebra and antelopes and life-size models of charred, skeletal battlefield corpses from Legends of Fall. Museum-quality sculpture is captured by the cast plaster life masks of characters from Oliver Stone's Nixon, including Anthony Hopkins as Nixon, Paul Sorvino as Kissinger; as well as John F. Kennedy from Stone's 1991 JFK.
McLean summarizes that "It's been an incredible exercise in research, discovery and appreciation of a new art form." As an auction house which covers a broad range of fine collectibles – the mutant bat heads and cockroach wings, eviscerated wildlife, and life-like busts of Genna Davis, Whoopi Goldberg and Hugh Jackman, and the statuesque Mystique have actually begun to blend in with the oil paintings, bronze sculpture, and objets d'art.
All these incredible items will be on view from March 21 – 23. Register to bid at onlineauctions.waddingtons.ca
Auction Highlights
Mystique – X-MEN 2, 2003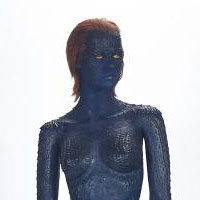 Life-size figure consisting of silicone appliques and hair on mannequin of character Mystique, played by Rebecca Romijn, height 69″ — 175.3 cm.
Estimate: $5,000—7,000
Wolverine – X-MEN, 2000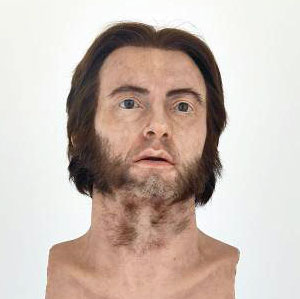 Stunt double bust of Wolverine character, played by Hugh Jackman, height 19″ — 48.3 cm.
Estimate: $2,000—3,000
Total Recall 2070, 1999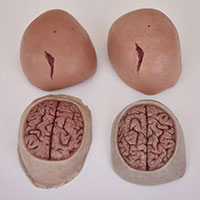 Two pigmented silicone baldhead wounds and two exposed brain prosthetics. Diameter 9" – 22.9 cm
Estimate: $200—300
Dolphin – Johnny Mnemonic, 1995
Mixed media, life-size prop model of a biomechanical dolphin, length 85" – 215.9 cm.
Estimate: $300—500