inside the cabinet – Volume 1 / Issue 1
From the rare to the Absurd!
Welcome to our library of back stories, talking points, in-store specials, and flash sales!
If you see a product number beside any item, be the first to hit that link and make it your own! In some cases the items pictured haven't made it on to the website yet, you're encouraged to visit the shop and capture these treasures in person or contact us and we'll track it down for you or suggest something similar.
Artist Spotlight
The "Art of Death" is the Latest Trend in Modern Home Decor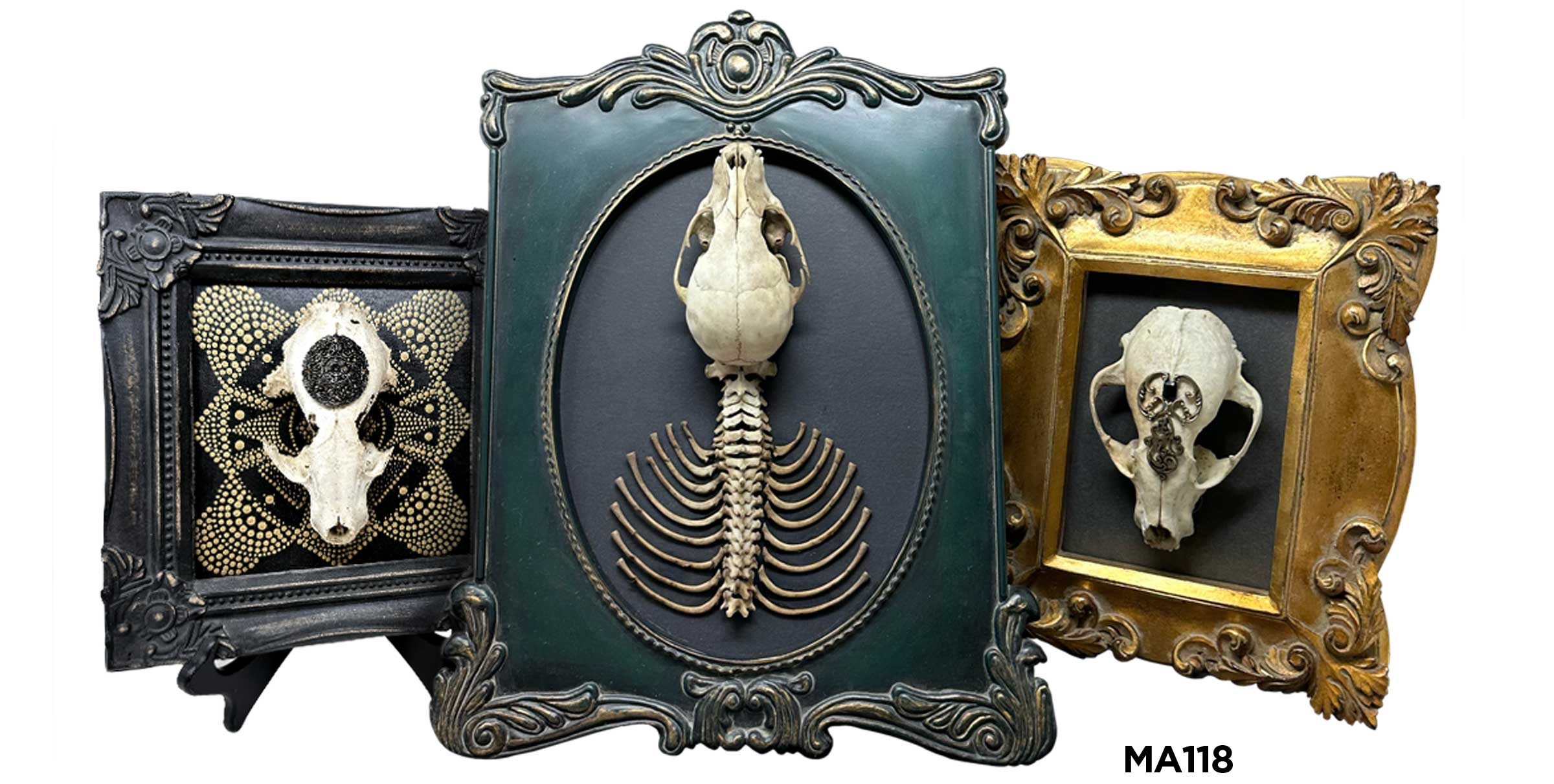 Pictured here are just three of the over a dozen beautiful and macabre art frames currently on display and for sale on the website and in the shop. Local artist Justin Daniel has a passion and what he describes simply as a unique perspective when it comes to re-imagining the bones he discovers while exploring. "It's almost as if I see the piece finished even if it's in it's most raw state", J.D. explains, "there's a natural beauty and dignity that surfaces in each piece I create, I try not to over manipulate the elements, instead I sort of just respond to instinct and listen to what the bones are telling me." Using repurposed vintage and antique frames and sometimes incorporating customized remnants of vintage jewellery, Justin has found a way to take natures most elemental of building blocks and re-purposed them into living, organic art. Stop by the shop to see these and many more original art pieces by talented local artists, many whom have developed a unique style of turning darkness into light.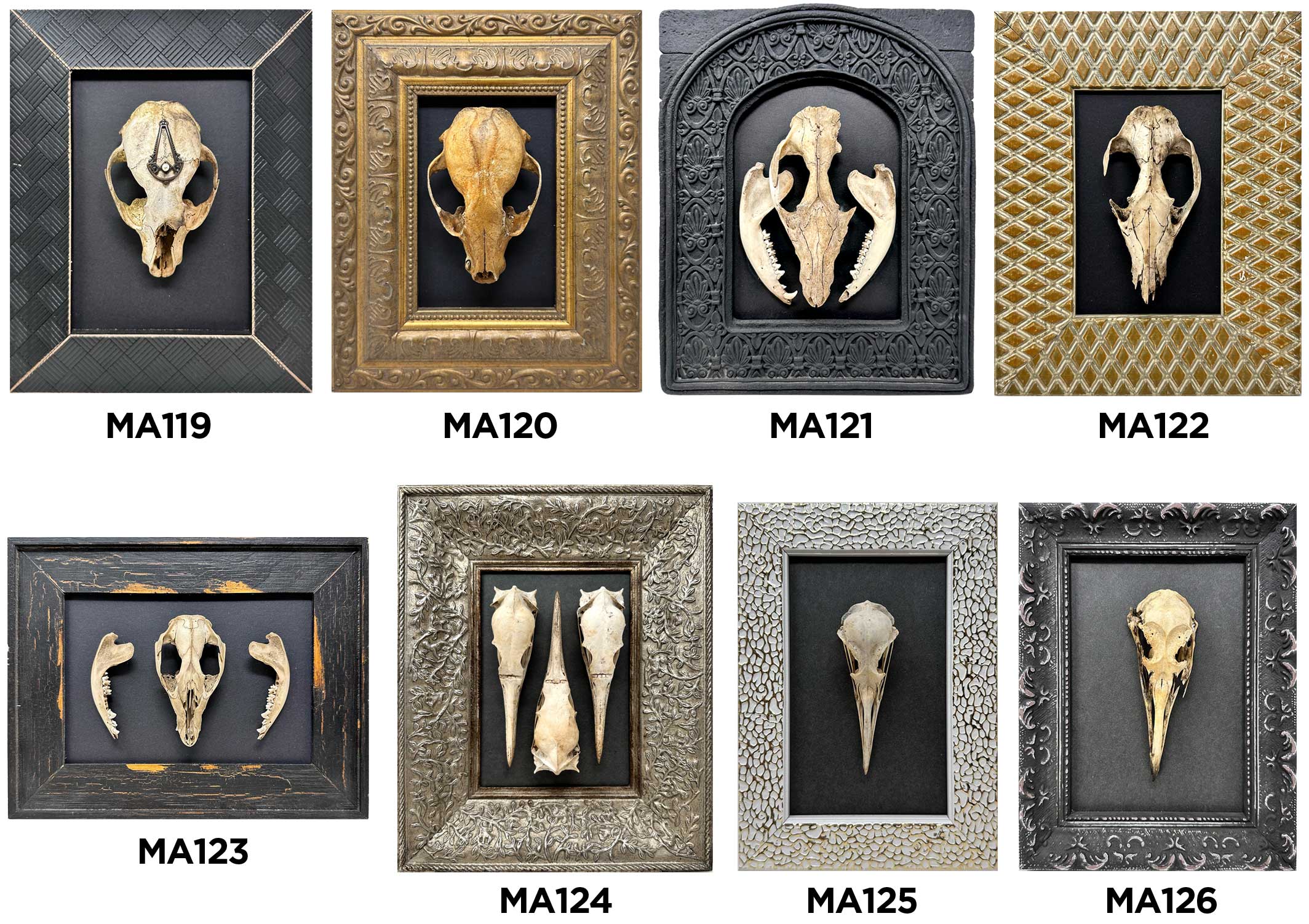 Frames are not proportionate in size, see website product listing for details.
The perfect introduction and starter kit into the world of Oddities & Curiosities!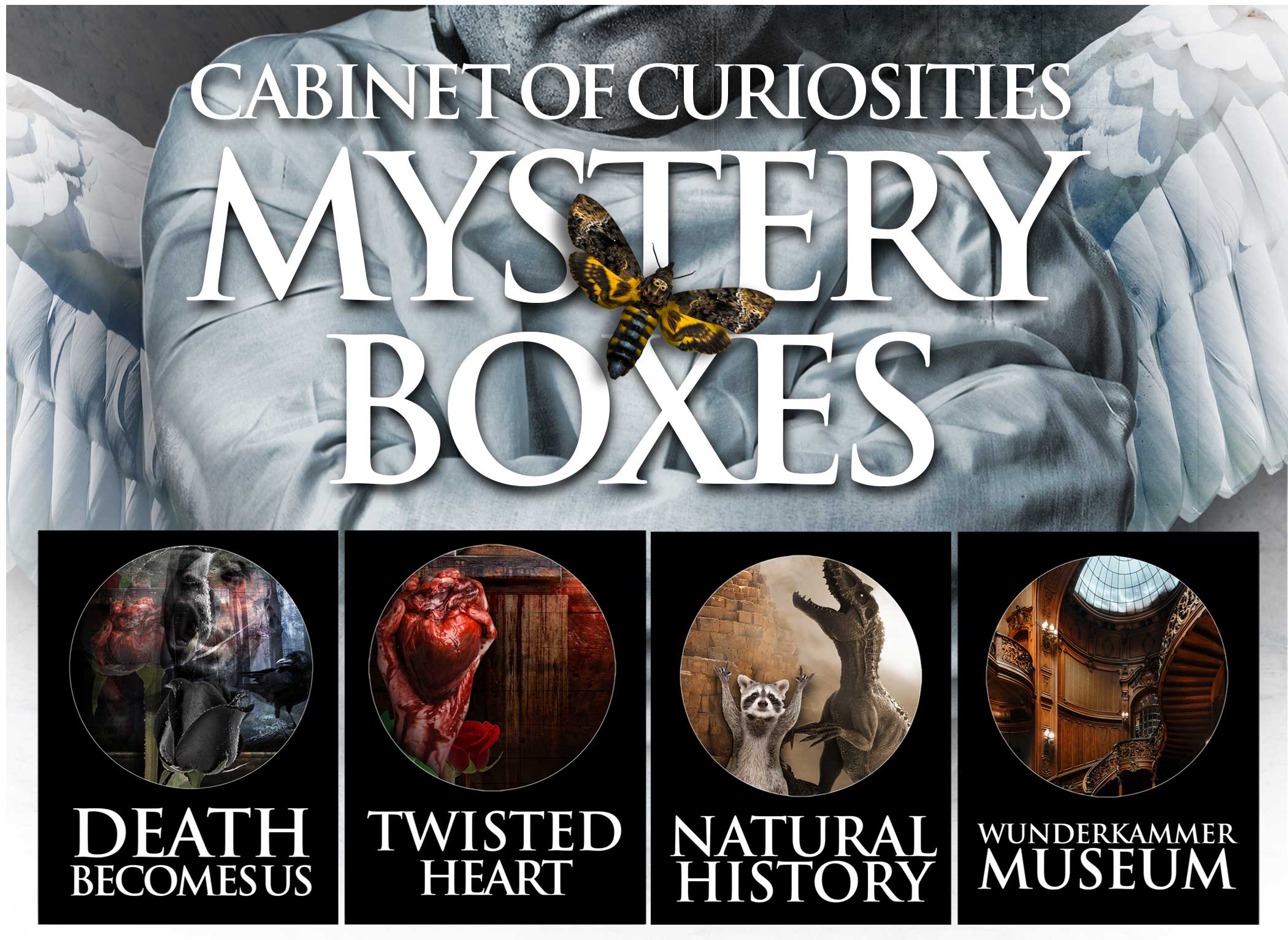 Choose from Death, Twisted Heart or Natural History, then pick your level of intensity! $45 or the 'Collector's Choice' $100 Box! Each collection is carefully curated to entertain, enlighten and intrigue! You won't find a mystery box like this anywhere, start your lifetime collection today!
Exclusively by Cabinet of Curiosities!
African Crested porcupine quills to be exact!
Just one of dozens of unique and rare items celebrating natural history that you can find almost exclusively at the Cabinet of Curiosities.
The African Crested Porcupine is native to Italy, North Africa and sub-Saharan Africa and much larger than our North American variety. It's sharp, sturdy quills provide protection against predators. It's body is covered in course quills 1 to 13 inches long. These quills fall out easily and are found naturally in the wild. Porcupine quills are modified hair that has a thick coat of karatin the same as that of the human finger nail. This porcupine has a short tail which has rattle quills at the end. The rattle quills broaden at the terminal end and the broad portion is hollow with thin walls. When these quills are vibrated, they produce a hiss-like rattle.

genuine fossil shark tooth pendants $5ea
Authentic shark tooth wire wrapped pendants ready for necklaces. These teeth date back millions of years. Ethically sourced from the Atlas Mountains in Morocco. Tooth fossils vary in shape, size and colour but presentation will be consistent. Absolutely genuine!
Available in any denomination for for those with obscure and distinct taste.
Available on all items over $100 with a 50% deposit down and the balance paid in full by any number of instalments within 60 days. Some conditions and restrictions apply.
and Otherwise Needful Things
341 Ottawa Street, N., Hamilton, Ontario
(corner of Barton and Ottawa streets)
Wednesdays though Saturdays: 10:30am to 6pm
Sundays: 12noon to 5pm
Mondays & Tuesdays are by chance or appointment
STOP BY THE SHOP TODAY
AND SEE WHAT YOU'VE BEEN MISSING!