inside the cabinet – Volume 1 / Issue 7
From the rare to the Absurd!
And now for something a little different – enjoy these features and product links! If you have any requests for topics or products, please let us know. The crevices run deep within the Cabinet and there's always more than meets the eye. Don't miss our other blog pages with even more articles and special Flash Sales! If you see a product number beside any item, be the first to hit that link and make it your own! In some cases the items pictured haven't made it on to the website yet, you're encouraged to visit the shop and capture these treasures in person or contact us and we'll track it down for you or suggest something similar.
And now I lay me down to sleep,
I pray the Lord, my soul, to keep.
And if I die before I wake,
I pray the Lord, my soul, to take.
Have an itch you just can't scratch? Try coming back from this… An authentic, officially licensed Freddy Kruger series 1 signed handmade glove by Anders Eriksen of Nitemaregloves. "For over 20 years, Freddy's had a glove of choice." Anders clients include the nightmarish Robert Englund himself. Robert's personal glove was seen in Comic Book Men and the Goldbergs Mr Knifey Hands. Ander Eriksen's work on Freddy Gloves is legendary and world renown, delivering gloves for Warner Bros. and the Halloween event Horror Made Here. The armature is made in copper, the blades are made in Stainless Steel and the glove itself is made from the highest quality leather.
A little inside information from the artist… "A little thing I do with my Nightmare 1 & 2 gloves; for the blade break, I file a little locking pattern Into the steel so the two pieces fit closer together and make the joint less bulky. I do this also because my blades are a little thicker than the original tomato knives used for the original."
While this piece itself wasn't actually used in the films, the Cabinet does have throughout the store a considerable collection of material that's been rented and appears in many of your favourite films and televison shows. Not that we like to 'namedrop' but Guillermo del Toro, Tim Burton and Disney shop here to name a few. Stop by and try and 'Spot the Prop"!
FREDDY FACTS
• New Line Cinema was saved from bankruptcy by the success of the film, and was jokingly nicknamed "The House that Freddy Built"
• All of the boiler room footage in the film was shot in the basement of the Lincoln Heights Jail in Los Angeles, which was condemned shortly after production wrapped, due to high levels of asbestos.
• Wes Craven first came up with the basic idea for the movie from a series of articles in the "Los Angeles Times" over a three-year period, about a group of Southeast Asian refugees from the Hmong tribe, several of whom died in the throes of horrific nightmares. The group had come to the U.S. to escape the murderous reign of Pol Pot, and within a year of arriving, three men had died all in similar situations, the young, otherwise healthy man would have a nightmare, then refuse to sleep for as long as he could. When he finally fell asleep from exhaustion, he awoke screaming, then died. Autopsy results revealed that they had not died from heart failure, but had simply died. It was this inability to find a cause of death that intrigued Craven so much. Medical authorities have since called the phenomenon Asian Death Syndrome, a variant of Sudden Unexpected Death Syndrome (SUDS), and Brugada Syndrome.
• The knives on the glove were not fishing or steak knives as many believe, but actually tomato knives. Case xx P210 was the model used.
OUTRAGEOUS CABINET ORIGINALS! THE PERFECT GIFT OR THE IDEAL HOBBY EXPERIENCE?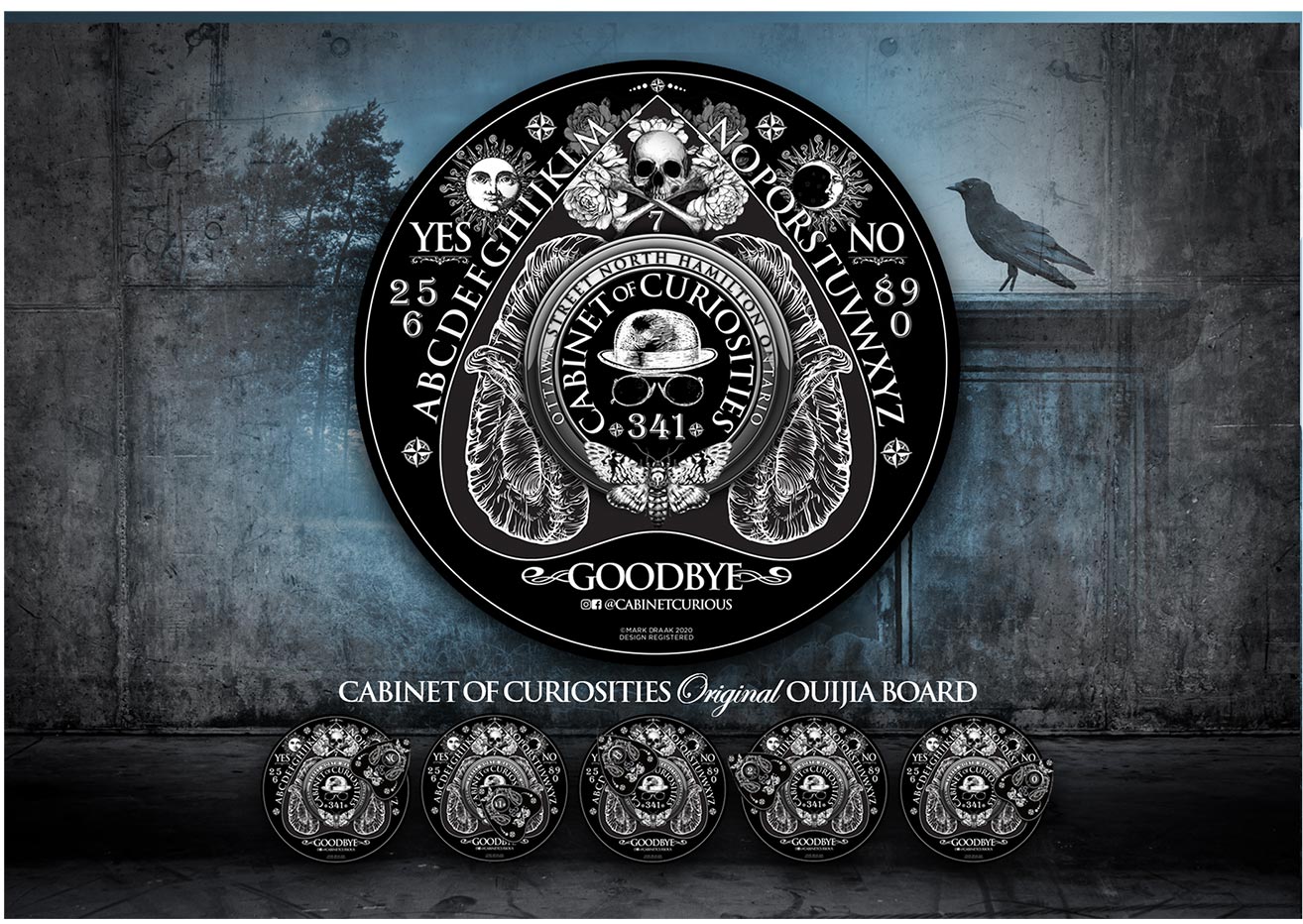 Searching for that perfect gift? Or just searching for answers? Let the spirits guide you through our limited edition Spirit Board, just one of the many Cabinet Originals exclusively available from Cabinet of Curiosities. I've personally created this intensly graphic 'deconstructed' style ouija Spirit Board to help guide you on your next journey of discovery. Supply is extremely limited so drop by or order yours online today, the spirits are waiting.
The birth of Ouija style spirit Boards 
The Spirits Themselves Allegedly Coined The Name 'Ouija'
Helen Peters, known for her skills as a medium was one of the first people to use the board. On April 25, 1890, Peters asked the spirits what to call the board, and "Ouija" was spelled out.
A Spiritual Patent
Helen Peters went to the patent office to show officials that the Ouija board actually worked. The attending patent officer said he would approve the board only if it could spell out his name, which Peters didn't know. After successfully spelling out the shocked officer's name, he immediately approved the patent.
The Prototype For The Ouija Board Was Produced By A Coffin Maker
In the midst of the spiritualist movement around 1886, E.C. Reiche developed his talking board. Reiche, a successful Maryland coffin maker and undertaker happened to work across the hall from businessman Charles Kennard. Kennard had earned a reputation for less-than-honest business practices, and this suspicion would again come to bear when Kennard and local attorney Elijah Bond would successfully obtain the first patent for what's known today as the Ouija board.
In-Store Special
FLASH SALE!
Horror Boards
Original art, custom created! Hang them on the wall or set them up with gear and ride in style!
Just 3 left!
$250
NOW Just $150!
Sale ends without warning!
Also available, custom prints on aluminium or paper and cuttingedge metal bookmarks!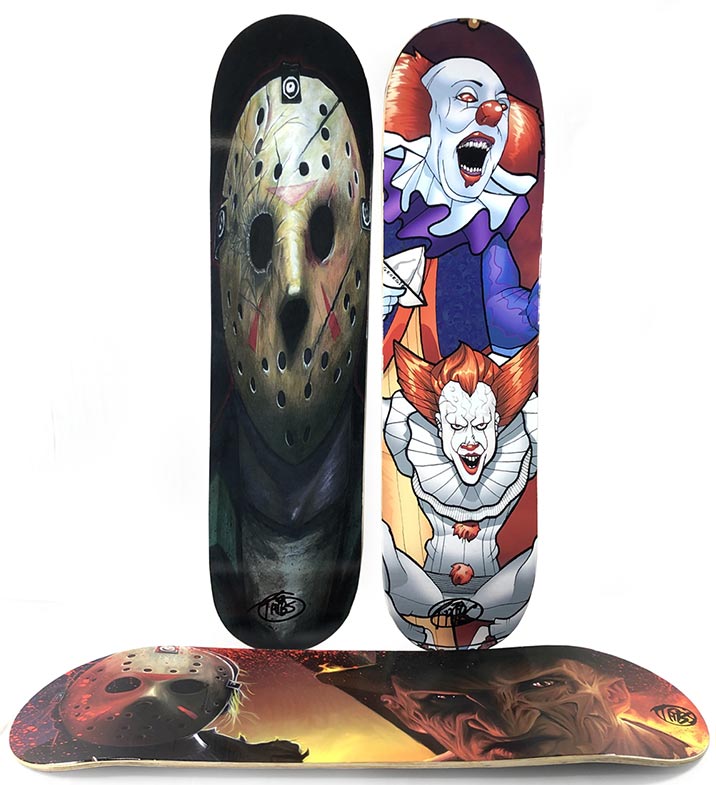 Available in any denomination for for those with obscure and distinct taste.
Available on all items over $100 with a 50% deposit down and the balance paid in full by any number of instalments within 60 days. Some conditions and restrictions apply.
and Otherwise Needful Things
341 Ottawa Street, N., Hamilton, Ontario
(corner of Barton and Ottawa streets)
Wednesdays though Saturdays: 10:30am to 6pm
Sundays: 12noon to 5pm
Mondays & Tuesdays are by chance or appointment
STOP BY THE SHOP TODAY
AND SEE WHAT YOU'VE BEEN MISSING!