inside the cabinet – Volume 1 / Issue 3
From the rare to the Absurd!
And now for something a little different – enjoy these features and product links! If you have any requests for topics or products, please let us know. The crevices run deep within the Cabinet and there's always more than meets the eye. Don't miss our other blog pages with even more articles and special Flash Sales! If you see a product number beside any item, be the first to hit that link and make it your own! In some cases the items pictured haven't made it on to the website yet, you're encouraged to visit the shop and capture these treasures in person or contact us and we'll track it down for you or suggest something similar.
Only available in-store! See it to believe it!
Corey Feldman – The Official Love Left 2.1 Boxed Set! $850!
"If you know, you know"… Dynamic heavy board heart shaped box includes the best of the best when it comes to the eccentric and eclectic Corey Feldman… includes 6 DVDs, 2 stickers, 2 guitar pics, 2017 concert VIP pass, bumper sticker, magazine, and official Corey Feldman sunglasses! And did I mention it's personally signed to Teddy Duchamp?! If I have to break this one down, Teddy Duchamp was Corey's breakout character from the Stephen King book The Body and of course the epic film Stand By Me, where Corey played the role of Theodore "Teddy" Duchamp, the troubled childhood friend of Gordon LaChance.
This one is one of a kind, I personally ordered for the shop, and will forever bathe in the glory of the stroke of genius in choosing who to have it signed to… one of those 3am moments of brilliance! As a custom order and request, this isn't a mass produced piece, it's literally one-of-a-kind! I have to wonder if Corey even noticed who he was signing it to when he did the signature?
Complete, the box was only opened to confirm and photograph! Extremely rare and distinctly Corey AND distinctly Cabinet of Curiosities!
HOW Cabinet of Curiosities helped CREATE THE EPIC SETS OF THE UMBRELLA ACADEMY
"…Their stock helped breathe life into Hargreeves' world." – Set Director, Jim Lambie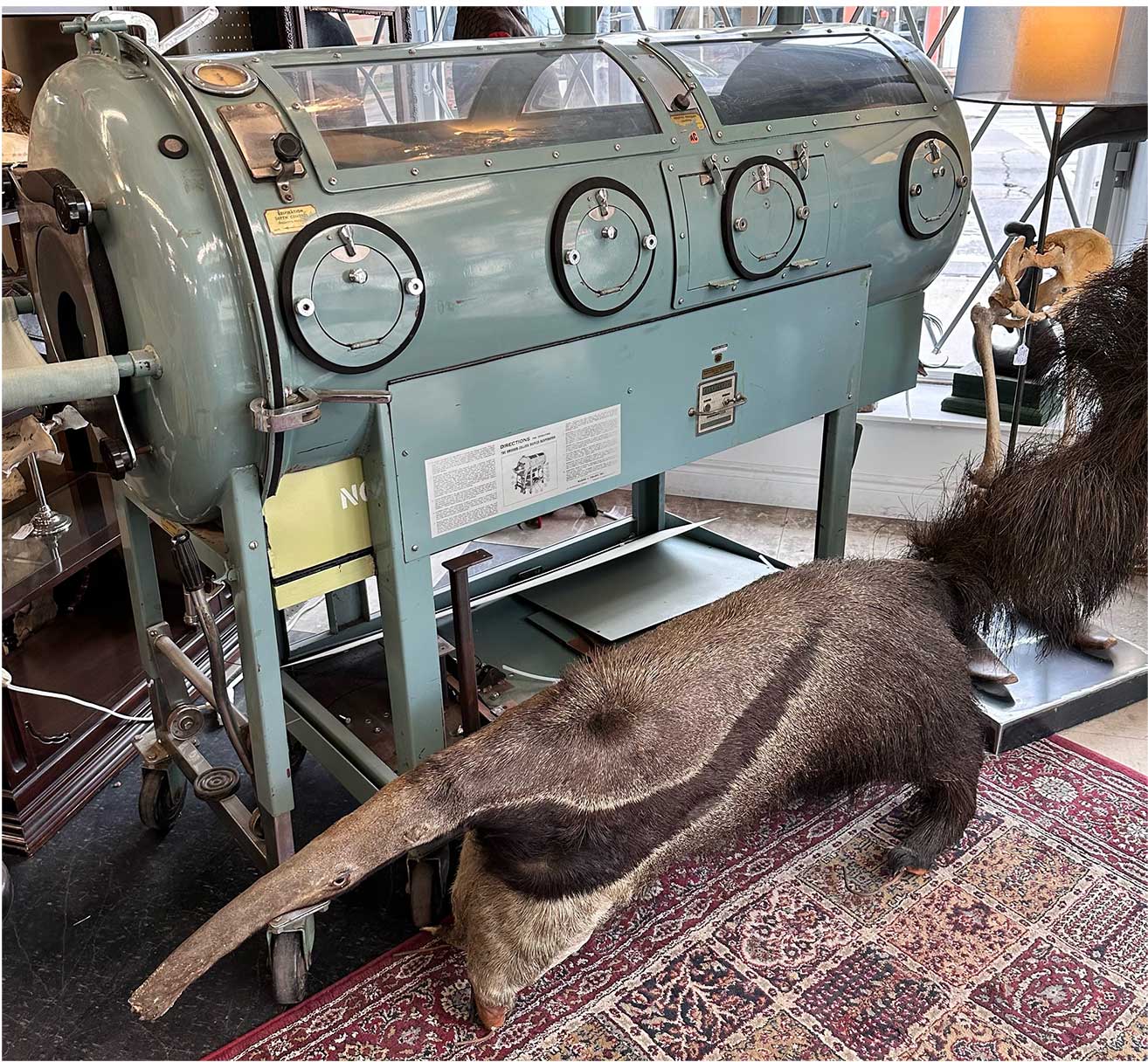 Step into the Cabinet of Curiosities where the lines between reality and fantasy are blurred. An Iron Lung and African Giant Anteater, both used in the Netflix hit series Umbrella Academy, welcome visitors to a different reality.
An exerpt from an article by Rose Lagacé with The Umbrella Academy's Set Decorator Jim Lambie discussing how they createded the layered sets with a retrofuturistic, eclectic look.
"Where did you guys get some of these things? Where did you get the taxidermy and all those skulls in Hargreaves office and in the Academy living room?"
"We rented some of it from Wiseacre, some of it from Lock Up Props and the Prop Room but mostly from Cabinet of Curiosities. Cabinet of Curiosities had a lot of the tribal items, lemurs warthogs all the reptiles and the giant alligator skin that was in a niche upstairs and of course the emu and the giant anteater. There was actually much more than that. Their stock helped breathe life into Hargreeves' world."
The Umbrella Academy is an American superhero television series based on the comic book series of the same name that revolves around a dysfunctional family of adopted sibling superheroes who reunite to solve the mystery of their father's death and the threat of an imminent apocalypse. The series consisted of four seasons, the last ending in 2023 and was filmed primarily in Toronto and Hamilton, Ontario.
The Umbrella Academy is set in a universe where 43 women around the world gave birth simultaneously at noon on October 1, 1989, although none had shown any sign of pregnancy until labor began. Seven of the children are adopted by eccentric billionaire Sir Reginald Hargreeves and turned into a superhero team that he calls "The Umbrella Academy." Hargreeves gives the children numbers rather than names, but their robot-mother, Grace, later names six of them: Luther, Diego, Allison, Klaus, Ben, and Vanya.[7] Reginald puts six of the children to work fighting crime but keeps Vanya apart from her siblings' activities, claiming she demonstrates no powers of her own.
The Iron Lung and the Giant Anteater pictured are 'hero' props from the series, meaning these exact pieces were used prominently within the show. We have many other props from this series as well as The Boys and American Gods, all iconic series. Throughout the store we have a considerable collection of material that's been rented as props and appear in many of your favourite films and televison shows. Not that we like to 'namedrop' but Guillermo del Toro, Tim Burton and Disney shop here to name a few. Stop by and try and 'Spot the Prop"!
The Cabinet supplied iconic 'hero' props to the following the films & TV series pictured here. How many can you name?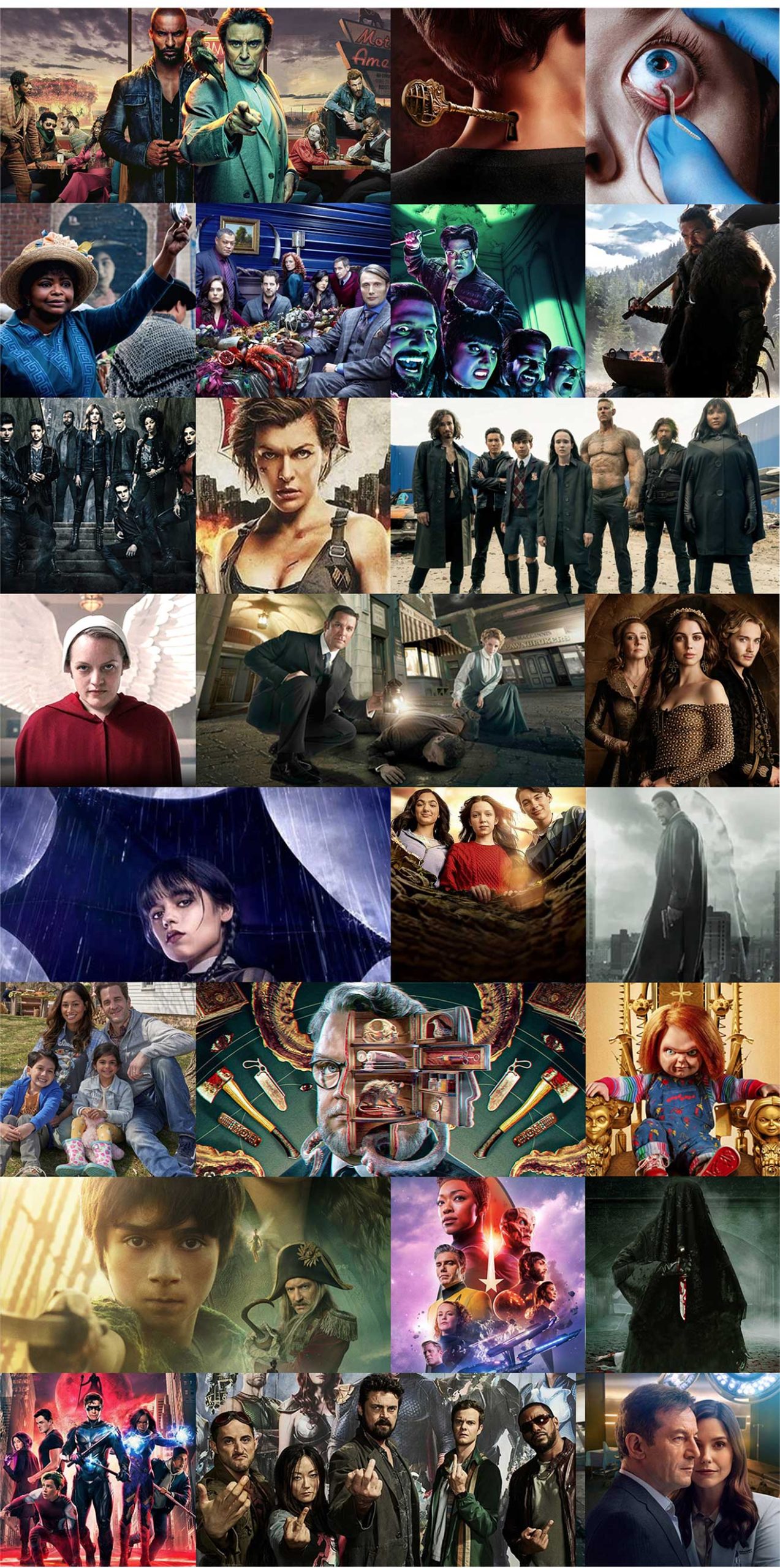 Think you recognize every feature picture here? Send us an email with your list and the first three correct answers will win a coveted exclusive Cabinet of Curiosities Mystery Box. Choose from Death Becomes You, Tortured Heart, Natural History or Wunderkammer. The perfect introduction or starter kit into the magical world of oddities and curiosities. Send your entries to curator@cabinetofcuriosities.ca
Available in any denomination for for those with obscure and distinct taste.
Available on all items over $100 with a 50% deposit down and the balance paid in full by any number of instalments within 60 days. Some conditions and restrictions apply.
and Otherwise Needful Things
341 Ottawa Street, N., Hamilton, Ontario
(corner of Barton and Ottawa streets)
Wednesdays though Saturdays: 10:30am to 6pm
Sundays: 12noon to 5pm
Mondays & Tuesdays are by chance or appointment
STOP BY THE SHOP TODAY
AND SEE WHAT YOU'VE BEEN MISSING!